Lately I've been trying to be very hands on with the kiddos, doing projects to reinforce our lessons, letting them make messes instead of picking them up immediately, and all around letting them learn in ways that are fun to them. So last night we had some family cooking fun!
I made
this
recipe for pizza dough a few hours ahead of time so that it was ready when daddy came home from work. While it was rising I cut up and prepared the ingredients, a whole range of veggies and meats, and whipped up some homemade pizza sauce with tomato sauce, diced tomatoes, and Italian seasonings. It turned out a little runny but who really cares when it's so much fun to make?
To make it as kid friendly as possible I just laid a huge sheet down in the kitchen and put all the ingredients on it. Since we didn't have a round pizza pan we made some rectangular shaped pizzas, one with red sauce and one with white Alfredo sauce, not homemade in this case. Bertolli knows their stuff there. The kids quickly got the hang of piling on toppings and pitched in with gusto!
:the toppings:



:careful preparation: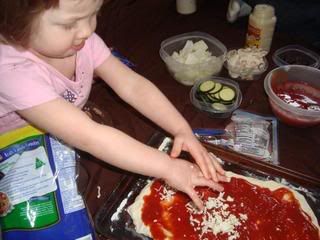 :even daddy helped:



:into the oven:



:pizza one - alfredo sauce, garlic chicken, yellow peppers, onions, mushrooms, zucchini, mozzarella:



:pizza two - red sauce, tomatoes, canadian bacon, pepperoni, olives, onions, yellow pepper, mushrooms, mozzarella, cheddar:



:happy kids: