Here it is, the promised spinning wheel post. I bought my wheel right before Christmas, a present for my business. Um, yes, we'll go with that. It's a Lendrum folding wheel, meaning A.) It's the best and B.) It folds up compactly so I can take it to knit club and places like that. There's a waiting list for Lendrums here at Paradise Fibers in my beautiful Spokane, but I went in so many times to oogle it they told me that they had just taken out their floor model several days prior, and that I was the only one who had used it at this point. And...they offered to sell it to me, with a fiber discount as it was a floor model, albeit an unused one.
They did mention that it had actually come to them with a cracked piece, which their man there, something of a spinning wheel expert, had repaired by completely replacing it with different parts. So my wheel is just a little different than your average Lendrum...a fact I love. Because she started out a defunct, I named her Lemon.
So Lemon and I have been spending long hours getting to know each other. We have conversations of yarn we'll be spinning together, what colors we love best, and what tension we work best at.
Me: "Lemon, I really think this blue looks fabulous on you."
Lemon: " I actually preferred the purple from yesterday."
Me: "We'll be plying the two together actually, I bet that will be the best blend we've done so far."
Lemon: "I quite agree...Loosen the tension a bit, I'm starting to get a cramp."
So how does a spinning wheel work exactly? First of all, let me introduce you to Lemon. Charmed, I'm sure.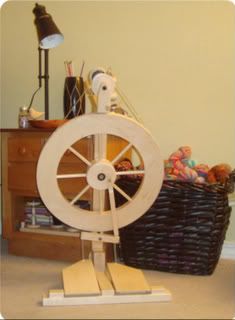 To start, a piece of "leader" yarn is tied onto an empty bobbin, ready to grab up the roving and start.
It's threaded through two pieces of metal on the flyer, which is the part that spin round the bobbin and winds the yarn around it, and then a little tube called the "orifice" (snicker, snicker).
At this point you take up your roving or top. Roving is a batt of wool that has been cleaned but not combed, top is a roving that is combed so all the fibers run the same way and is normally cajoled into long slender roped that put me forcibly in the mood of intestines.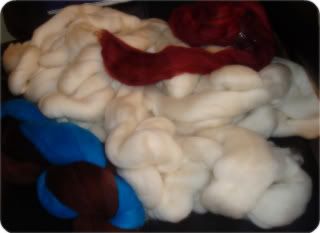 You give the wheel a little spin to start it and being to treadle the foot pedals. Mine is a double treadle, meaning there are two pedals as opposed to the more traditional single treadle. As you treadle the wheel spins round in a merry little way, and for every time around it gives your yarn a spin. In the space between your hands and the orifice the yarn is spun repeatedly until the tension is just right before entering through the orifice, where spinning stops and it wraps around the bobbin.
A finished bobbin at this point is a single ply of yarn, and looks something like this.
After spinning several of these single ply bobbins, you move them to an ingenious little device called a Lazy Kate, which has three rods, cleverly tensioned so they don't spin out of control, to hold your bobbins as you do either a two or three ply yarn.
And the finished prooduct looks like this, in this case a two ply yarn.
Once finished you give it a little bath to set the twist in, let it dry, and twist her up into a compact skein to keep it nice and ready to go.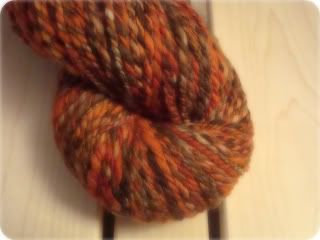 Here are some examples of different types of handspuns, from bumpy novelty type yarns on the left to more even worsted weights on the right.
So now you know how my days are being spent - repeating this motion over and over, talking with Lemon, and creating one of a kind pieces ready to be turned into beautiful knits that will be loved.