On to the promised post!
The last month has been crazy busy with tons of family, friends and business. I've tried very hard lately to organize and streamline and come up with a schedule that allows me to do a little of it all every day and still feel slightly sane at the end of the day. Happily, I'm getting into the groove and the day to day business of my life has become just a tad smoother.
First off, family. Sharkbait and The Bean are, as usual, a mix of terror and sunshine. We've been doing actual lessons during the day and it's going well. Ely is working on colors and learning her alphabet. Aidyn knows most of his letters and numbers and we're working on reading small words. Every day we do some kind of craft to reinforce the lesson and so far the approach seems to be working. Ely potty learned overnight it seems, and we have now been a diaper free house for a little over five months. My cloth diapers are still sitting in a basket here though, I haven't had the heart to sell them yet.
One of the things they're getting really interested in is my knitting and spinning, so we've been having mini lessons in knitting. Ely mainly clicks her needles together and pushes the needle in the loops; Aidyn is actually trying to loop the yarn around.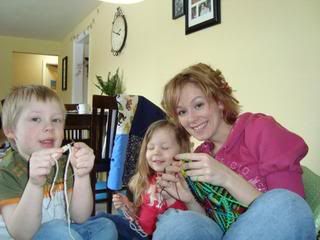 We celebrated Aid's fourth birthday in February. He wanted, and this is verbatim, "a cake in the shape of a four, because I'm four now mommy *holds up four fingers*, and it needs to have pirates on it with treasure and some dinosaur sprinkles. Oh, and candles, four candles." Luckily I found a pirate set and dinosaur sprinkles, and I think it turned out pretty well. He certainly thought so.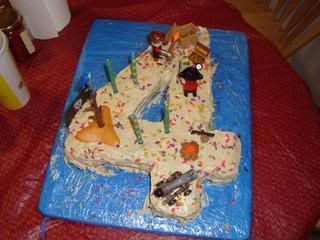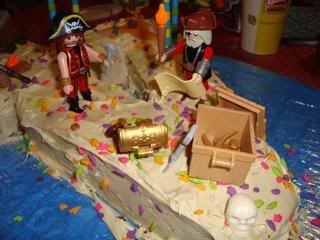 My brother Nathan made a surprise visit this last weekend and so my little family here, that's my brother Levi and his wife Dani, plus of course Nathan and ourselves, gathered for a night. We ate some pizza, then Nathan and I took off for a little one on one at a cafe, and when we returned we stayed up until one playing cards and having a grand time.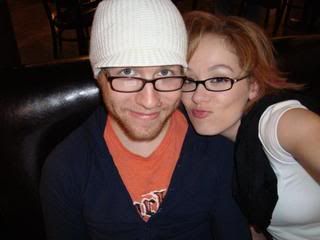 At one point Levi started telling Nathan about the previous weekend, when Evan squatted so much weight that his barbell was bending in the middle. Just to prove it, Levi and I hopped up on his back where he squatted our combined weight as if we were just Aidyn and Ely up there.
I started watching my darling nephew Turner in the afternoons; he's almost a year old and the cutest little guy ever! Here he is modeling a knit for me.
Last week one of Aidyn's little friends, Alexandria, came over and they had a princess dress up party. It was hysterical.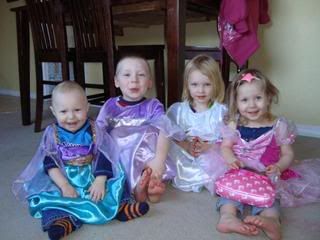 Alright, so on to business!
Business is good. Great actually. I constantly have a customs list out a month and a half, which keeps me busy and is somewhat intimidating, but I like it. I've been dyeing and spinning and knitting my heart out and have turned out lots of lovely (if I do say so myself) items. I even broke out my sewing machine and finished a knitting bag and accessories holder combo for a mama.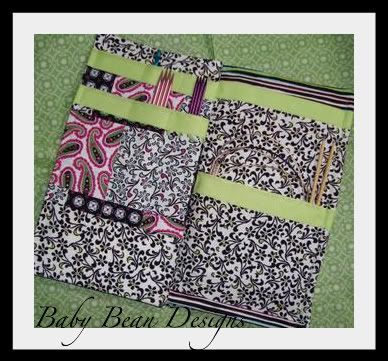 A few spins and some roving I've dyed.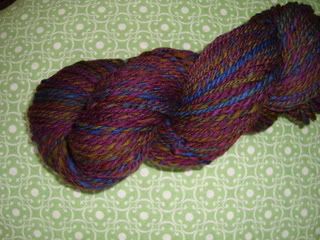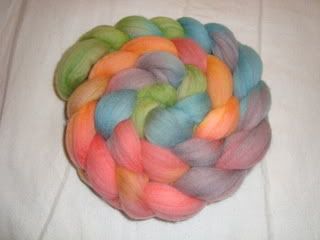 My congo also participated in this really cool promotional gig called The Spotted Box. It's chock full of WAHM samples. We sent in a total of 60...whew!
And then, finally, me!
I finally made something for myself, a lace shrug from a gorgeous cotton silk yarn. Laugh at the serious pictures, I'm purposely trying to get one here.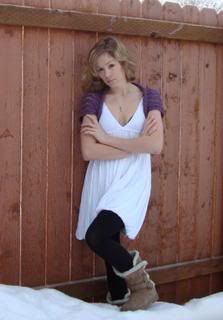 I scored a very hard to get yarn bowl from Rising Sun Earthworks in a gorgeous purple. A yarn bowl is basically a regular bowl that has a slit in the side for your yarn to come out. The ball of yarn sits in the bowl instead of rolling all over the floor :)
I can't talk about me, of course, without mentioning my other and better half. Evan is busy with work and all the rest as well, but we find little moments together that make the in between a little more bearable. Here's a peek at one of our silly moments, an impromptu photo shoot one night while watching some TV together (Top Gear, what else?).
That's about it, lots of laughter and plenty to keep me busy. Maybe as I grow into my new schedule I'll be able to fit in more blogging time, in the meantime, cheers!