A WIP, a pair of Shorties for Holly.




My Elliebelly yarn that arrived today, a OOAK paintbrush colorway called 'Michelangelo'.




The newest additions to my roving/yarn stash. The yarn is MM 'Turning Leaves', the top roving is 'Woodland in Spring' and the pink toned one is 'Lorelei'. They're from Aimee, the yarn is payment for the roving, which I will spin up for her, and the other will be sold once it's spun up.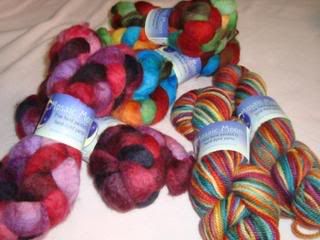 A detail of the bolero that I finished for Heather, the flat version just looks wonky, so just look at the post that has me wearing it, and imagine it in this lovely red!